A Day in the Life of a Therapy Dog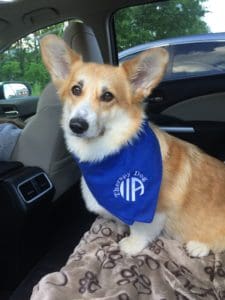 Marguerita, or "Rita" as she's lovingly known, is a four-year-old Pembroke Welsh Corgi from Averill Park, New York whose life is anything but ordinary. 
Rita routinely comforts humans suffering with everything from anxiety to physical disability to terminal illness. Her mere presence in a surgical waiting room can assuage the anxiety of those who are waiting to hear about the outcome of their loved ones' procedures. Her wagging tail and childlike eagerness for the embrace of a stranger can diminish, if just for a little while, the discomfort associated with a disease that isn't going to be cured.
How Important are Therapy Dogs
Therapy Dogs like Rita fill an important role in today's hectic world, according to Jennifer Morrell, her handler. Morrell, a native of Westchester County, NY, relocated to the Albany area to do graduate studies at UAlbany. After earning a Master's Degree in Social Work she decided to make Upstate New York her home. She and her husband raised two daughters and the family currently resides in Averill Park on a farm with goats, chickens, and cows. "Prior to having my daughters I worked in Troy as a social worker at a physical therapy rehab center where I was responsible for discharge planning and stroke rehab," Morrell said. "But I became a stay-at-home mom to raise my daughters." Once her girls became old enough, Morrell decided to fill some of her free time with volunteer work. It was her eldest daughter, Sophia, who initially laid the groundwork for the volunteer work her mother would eventually do.
A Pet Therapy Project
Sophia, who is now 18 and attending Siena College, was then a freshman at Holy Names School in Albany and interested in doing a project on the benefits of pet therapy. A very young Rita was a great candidate for the project because she had successfully completed Basic and Advanced Obedience Training, Morrell said. "Sophia got certified first as a handler and Rita passed Therapy Dog International testing," she said. "Later I got certified as a handler." Obedience and good listening skills are extremely important for a Therapy Dog, Morrell said. Rita shines in her role and in fact is something of a celebrity. She participates in Agility Competitions and plays at Emma Willard School with Morrell's younger daughter, Heather, who is 16. And she has even appeared in an MVP Medical commercial.
A Dog's Most Important Role
But perhaps her most important role is that of a Therapy Dog at Albany Medical Center. Morrell and Rita have been weekly volunteers at AMC for the last 1 1/2 years. The use of Therapy Dogs at AMC is something staff take seriously. "Albany Med's Volunteer Services Department oversees a team of 52 certified, trained therapy dogs," said Sue Ford Rajchel, Manager of Media Relations.  "The dogs visit more than 8,000 rooms each year to lift the spirits of patients and visiting loved ones, and are often requested to give staff and Albany Medical College students a boost as well."
Morrell said she and Rita feel greatly appreciated each time they volunteer. "AMC is really good at letting the handler decide what's best for the dog each day they come in to volunteer," she said. "We're given a list of patients in need of a visit that particular day. Often there are as many as 18 to 30 patients on the list, and usually more in the summer!" So handlers and dogs split the list and then begin making their rounds. They are allowed to visit all areas of the hospital except the Emergency Room, Intensive Care, and Neonatal units, Morrell said.
How does a Therapy Dog Help
What does Rita bring to the patients and family members she visits? With her soothing presence people are able to take a deep breath and relax or change their focus, however briefly, from their worries to something of comfort. Sometimes her presence brings them sheer joy and happiness. She and Rita spend  1 1/2 to three hours every day they volunteer at AMC. And Rita knows that at the end of each of her shifts there will be a special treat waiting for her. "Kelly Morrone, Head of Volunteer Services, always has bacon-soaked dog biscuits for the dogs before they leave," she said.