6 Tips For Choosing Dog Food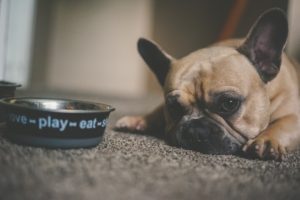 It's really important to put some deep thought into finding the best food for your pooch before you settle on a brand. After all, what you feed Fido will directly impact his overall health, energy level, coat and even his longevity!
My dog Talia, a German Shepherd, came into my life when she was just three months old. Her dietary needs were much different as a puppy than they were as an adolescent and eventually as an adult. In the beginning, the generic puppy food I gave her caused her to have diarrhea. A consultation with a veterinarian educated me on the dos and don'ts of proper nutrition — specifically for Talia.
It's always a good idea to take a new pet to the vet for a health evaluation and during the consultation be sure to ask about recommendations on what to feed Fido or Felix.
Additionally, pet health experts at insidepetshealth.com <http://insidepetshealth.com/> recommend you consider the following six guidelines before you choose the dog food your pooch will eat every day:
1. The Need for Calories —  Puppies and canine mamas feeding pups need food with more calories than older dogs. Energetic dog breeds need more calories than their less active canine counterparts. If you find a brand of dog food that claims to be breed specific ask your vet if it's the right fit for your pooch.
2. Read Between the Lines — Wording on dog food packaging reveals a lot about its protein content, which is vital to the good health of a pooch. For instance, an FDA analysis of pet food uncovered that food with simple names such as "Beef for Dogs" and "Chicken Dog Food" usually contains as much as 95 percent protein. Water as an ingredient reduces protein content to approximately 70 percent. And dog food with such words as "Dinner" in the title can actually contain as little as 25 percent protein.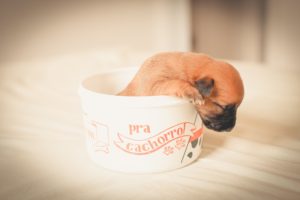 3. Too Many Choices — When you shop for dog food you may feel overwhelmed by so many choices. Meat or meat meal should be the first ingredient. It's best to avoid foods listing grain or ground corn. If your dog suffers from allergies his or her vet may recommend a vegetarian diet for a short period. Normally, however, meat should be at the top of the ingredient list.
4. Are Grain-Free Diets Best —  Only your pooch's veterinarian should determine whether a grain-free diet is right for your dog. Severe allergies are often triggered by the main protein (such as chicken or beef) in your pup's food rather than by grains. Allergy symptoms may include abnormal scratching, licking paws, vomiting and diarrhea.
5. Importance of Nutritional Adequacy Statement — Does the food provide balanced and complete nutrition for maintenance of adult dogs, puppies or dogs at all stages of life?
6. Do Further Research — It's important to learn as much as possible about the brand of food you decide on for your pooch. There is a lot that manufacturers won't list on the label. For instance, does the manufacturer adhere to strict quality assurance standards and how do they source their ingredients? After all, wouldn't you want to feed your pooch food you feel completely good about?