A Complete Guide To Traveling With Your Dog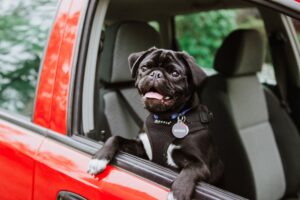 Traveling with your dog is not always as easy feat. There are several factors that go into taking trips with your dog. Whether it is air travel, bringing your dog in the car, finding the best dog-friendly stays or even the most fun places to visit that you can bring your dog along; we have everything you need to know about how to plan to travel with your dog. tips for traveling by plane, by car or in hotels. Flying with dogs, driving with pups and overnight trips with your dog can be made easy so long as you prepare!
Travel With A Well-Trained Pet
Understand that traveling with your pet will require you to have an adaptable and well-trained dog. Remember that you want this travel experience to be as calm and relaxing as it can be, for both you and your pet. When traveling with a dog, you want to think ahead of time what situations your dog might be cast into and begin training them in some similar situations leading up to road tripping with your pup. Helping to make the transition and desensitization is important. Encourage your dog to be comfortable being walked on a leash and being kept in a crate as both are likely going to be required anywhere you visit or travel at some point or another.
Keep Your Pet Healthy For Traveling
Making sure your dog is healthy is something else to consider when determining if you should take trips with your dogs. In the event your dog needs medical attention, it is good to map out a possible veterinarian if your dog should need to visit one while you are away. Something you should prioritize is to keep your pet up to date on their vaccinations and carry a copy of proof with you. Certainly if you travel internationally vaccines will be extremely important to prove you have a healthy dog in transport.  Aside from concerning yourself with a healthy pup before your travel begins, it is important to consider maintaining their health along the journey. We generally recommend avoiding dog parks and areas heavily traveled with other dogs as germs and disease can be more common in those areas versus others.
Tips for Using Pet Relief Areas
Something people might overlook ahead of travel is the importance of helping your dog use different areas to relieve themselves. Dogs are habitual animals by nature and they often rely heavily on their routines. Does your pup use the same spot in the yard to go to the bathroom? Do they pee next to the same post on your walk each day? You should get in the habit of bringing them new places and getting them to use the bathroom in a new area as well. When you are stopping along your travel or in the airports, you will want to allow them to comfortably relieve themselves in a new unfamiliar place.
Tips for Flying With Your Pet
Flying with your dog could be the most difficult to navigate when including your furry companion. A lot of airline companies allow animals on board, whether in the cargo hold or to fly in the cabin. Every airline has different requirements for pets in order to host them on board, especially if they will be riding in the cabin. The best way to get all the nitty gritty details on your travel with dogs is going to be by asking your desired or anticipated airline directly on what would be required for your trip. Flying with a pet is not as impossible as some might think. You can often buy a seat for your pup and bring them in the cabin so long as they have proper paperwork and all the requirements are met. Airline websites have detailed information that will go through everything to know about flying with your furry companion.  If you do decide to travel by flying with a dog, please always put your consideration for your pup and for the other passengers at the forefront of your mind! Keeping everyone comfortable and safe is always the most important goal!
Tips for Driving With Your Dog
Be sure to take your pup on some test drives to be sure that they will remain safe and comfortable on a long ride with you. Let your dog ride with you often in order to help them travel better overall. This will help them feel more confident about being in the vehicle and going to new or different places. Keep your dog in a safe spot inside the vehicle and help develop a routine with them using this space when in transit. each time you take your dog, they will become more familiar with the routine that goes alone with a car ride. Another important mention regarding pet travel is to always feed your pet well ahead of your anticipated travel. This will help mitigate an upset stomach. If you are on a long trip, you can feed your dog in small handfuls off and on throughout the trip instead of too much all at once. Pack a travel water bowl to help keep them hydrated and content along your way!
Staying In A Hotel With Your Dog
Finding a place to stay that will allow dogs is not as hard as you might think! Of course there are hotels that dogs are not allowed or welcome, but you might be surprised to find how many you come across that do allow pets. You will most likely be looking at an additional fee when you travel with pets but that is to be expected. We always recommend bringing a dog crate for your pet when you're traveling because it will help keep them safe and sound in a new and unfamiliar place. Being courteous and ensuring your pup is calm and settled if you leave them alone is important. You do not want to instill undue stress on your pet in the event that you leave so you should practice leaving them and creating a calm environment that you can recreate anywhere.
Tips To Make Traveling With Your Dog Easy!
We hope this information was a helpful way for you to digest taking trips with your dog! Going on trips with your dog make for the most amazing memories for the entire family, your furry companion included. Ensuring you set yourself and your pet up for success when considering travel outside of their normal routine and zone is paramount to an enjoyable time away. While there are many places dogs aren't allowed, there are countless experiences you can still share with your pet in tow. You'll need to be sure you prepare and take necessary steps ahead of time so that you plan the safest and most effective way to travel with your pet!