How to Detect Depression in Your Dog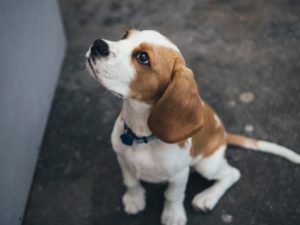 My neighbor's dog Blake is a bundle of furry, bouncing joy. Even at six years old, he still displays many behaviors of the puppy he once was. A chocolate lab mix, Blake is a cherished member of the family who wiles away his time chasing birds and squirrels in his fenced in yard and enjoying the good life with his human siblings and parents in Clifton Park. They routinely take him on camping trips and to area dogs parks throughout Upstate New York, including to two of is favorites in Delmar and Lake George.
Recently, while I was dog-sitting, I noticed that Blake didn't seem to be acting like himself. Sure, he was missing his two-legged family members but it was more than that; he actually looked depressed and his body language seemed to underscore as much.
Ordinarily, Blake is happy to spend time with me — even when his family is absent. So I became concerned. I contacted his owners and asked if I could take him to the vet, which they readily agreed to after I described his lethargy and seeming sadness.
Blake hadn't experienced any major life changes, such as the loss of a pet companion, a residential move or the introduction of a new pet or human baby to the family. I made sure to share that information with the vet.
His veterinarian gave him a clean bill of physical health and then discussed his symptoms of depression, which she said can mirror many of those experienced by humans but are not as hard to detect in a dog.
Here are a few ways to recognize depression or sadness in your dog:
1. Vigilance will make it possible for you to detect subtle or not-so-subtle changes in your dog's behavior — such as lethargy and loss of interest and withdrawal from normal activities.
2. Loss of appetite and water intake — or the complete opposite, depending on your pup's personality. For instance, if your dog begins to eat excessively when he is ordinarily a fussy eater that can be an indication of depression or stress.
3. Anxiety and destructive behavior — these and other abnormal behaviors can be an expression of depression if they are a departure from your pooch's normal behavior.
So what's the solution if you and your vet determine your pooch is depressed? Well, it depends on your dog. 
For some dogs, something as simple as adding (or decreasing) his training routine can be the answer. New toys, more walks, occasional treats and simply spending more time with him can chase away his depression and get his tail wagging again.
Antidepressants may be prescribed if the depression is not short-lived, even after you change things up for your canine companion.
So keep a close eye on Fido and make sure to consult the vet if you see signs of sadness. After all, you and your best friend both deserve a lifetime of happiness!