Discover an extensive collection of dog friendly hiking trails in scenic upstate New York for some outdoor adventure with your furry friend. Unleash your inner explorer with our comprehensive guide to dog friendly hiking trails in beautiful upstate New York. Looking for dog friendly hiking trails? Explore the stunning natural beauty of upstate New York with your four-legged companion by your side. Plan your next outdoor getaway in upstate New York with our list of dog friendly hiking trails, perfect for bonding with your furry hiking partner. Embark on unforgettable adventures through upstate New York's dog friendly hiking trails, where breathtaking views and wagging tails await. So, if you are searching for your next dog friendly adventure with your four-legged companion, here are ten exceptional dog-friendly trails in Upstate New York.
Catskill Mountains in New York State
Spanning across a vast expanse of 700,000 acres of publicly accessible land, you'll find an abundance of trails awaiting your exploration. While accompanied by your furry companions, they are warmly welcomed on the majority of these trails but kindly requested to remain leashed. Offering an extensive variety of pathways, ranging from effortless strolls to exhilarating ascents, these trails cater to hikers of all skill levels, ensuring an incredible journey for everyone involved.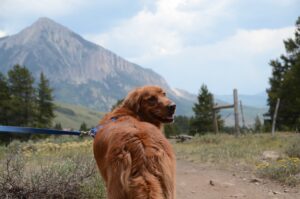 Letchworth State Park in Castile, New York
Letchworth State Park shines as the magnificent "Grand Canyon of the East" and serves as a beloved haven for passionate hikers. With an extensive network of over 60 miles of trails, the park invites you to immerse yourself in awe-inspiring waterfalls, breathtaking gorges, and picturesque viewpoints. While exploring, feel free to bring your four-legged friend along, ensuring they are securely leashed. Remember, it's essential to pack an ample supply of water for both yourself and your furry companion, as water sources can be scarce at times.
Finger Lakes Trail in Mt. Morris, New York
The Finger Lakes Trail is an incredible 585-mile hiking path that spans from the picturesque Catskill Mountains to the majestic Allegheny Mountains. While taking on the whole trail may present some challenges, fear not! There are numerous dog-friendly portions along the route that will leave you and your furry companion in awe of the breathtaking views. Just remember to pack poop bags for cleanup and plenty of water to keep your four-legged friend hydrated. Rest assured, leashed dogs are more than welcome to join you on this epic adventure!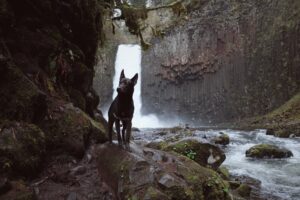 Hudson Highlands State Park in Cold Spring, New York
Located just one hour north of New York City, Hudson Highlands State Park boasts an array of top-notch hiking trails that are sure to get your heart pumping. Prepare to be astounded by the awe-inspiring vistas of the Hudson River and the majestic mountains that envelope this wondrous park. To ensure a pleasurable experience, make sure to pack an ample supply of refreshing water as there are only a limited number of water sources available.
Watkins Glen State Park in Watkins Glen, New York
Watkins Glen State Park is an incredibly sought-after spot for nature enthusiasts, boasting an impressive array of 19 cascading waterfalls and breathtaking geological wonders. For those who love to explore on foot, the park provides an extensive network of trails spanning over 3 miles, catering to both leisurely walks and exhilarating uphill treks. This idyllic family-friendly park also welcomes your furry friends, granting them the freedom to frolic and roam off-leash. It's the perfect setting to unwind, recharge, and create unforgettable memories.
Clark Reservation State Park in Jamesville, New York
Clark Reservation State Park is an exceptional marvel of nature, boasting majestic cliffs and sprawling lakes. As you explore this magnificent park, you'll discover an extensive network of invigorating hiking trails spanning more than 5 miles. These trails cater to all types of adventurers, whether you prefer leisurely strolls or thrilling ascents. It's important to note that certain trails present more moderate challenges, so make sure you're prepared for an exhilarating workout.
Tinker Falls in Tully, New York
Embark on an exhilarating adventure along the Tinker Falls path in the breathtaking Tully Valley State Forest. Despite its short distance of 0.6 miles, this trail promises gratifying experiences as you feast your eyes upon the magnificent 50-foot cascade. Feel free to bring your four-legged buddy along, just remember that dogs are allowed if securely leashed. Don't forget to pack an ample supply of water for both you and your furry friend, as this trail might present some invigorating challenges.
Walkway Over The Hudson in Poughkeepsie, New York
The Walkway Over The Hudson in Poughkeepsie, NY, is just one example of the 1600 incredible rail-trails that have been brought to life with the help of the amazing nonprofit organization, Rails-to-Trails Conservancy. Through their tireless efforts, these unused railway paths have been transformed into something truly special – a vast network of trails that connect communities across the nation. You and your furry friend can now enjoy a fantastic walk along this dog-friendly "rail-trail" right here in Poughkeepsie!
Sleeping Beauty Mountain and Lake George Trail in Kattskill Bay, New York
Experience the thrill of embarking on this invigorating 7.7-mile loop trail located near Kattskill Bay, New York. This scenic route, often regarded as moderately challenging, promises an exciting adventure that typically takes an average of 3 hours and 43 minutes to conquer. Immerse yourself in the abundant nature and diverse wildlife as you delve into a popular haven for birdwatching, camping, and fishing enthusiasts. Be prepared to cross paths with fellow explorers as you revel in the vibrant atmosphere of this trail, especially during the months of March to November. Feel free to bring your furry companions along, as dogs are not only allowed but can also roam off-leash in certain designated areas.
Reeves Brook Loop Trail in Sloatsburg, New York
Get ready to take on an energizing adventure on this captivating 3.8-mile loop trail close to Sloatsburg, New York. Be prepared to conquer a moderately challenging path that will surely revitalize your spirit. You won't be alone in your exploration, as this highly sought-after hiking spot attracts numerous fellow adventurers. Make sure to schedule your visit between April and November, as these months offer the most welcoming weather. Your furry friend is more than welcome to join you on this journey, and in certain areas, they can even roam freely without a leash.
Tips for Safe Hiking with Your Dog
Be sure to prepare your dog for its hike, especially if it's you or your dog's first time hiking or out on the trail. Here are some tips for making sure that you ensure your dog's safety and that of your and other hikers.
Going on an adventure with your adorable four-legged companion can truly be a thrilling experience. It is of utmost importance to ensure that your furry buddy is fully equipped for the exciting trails that lie ahead. Therefore, before embarking on your hiking journey, it is imperative to engage in some training sessions with your beloved pet, guaranteeing they possess the basic obedience skills required to remain secure throughout the expedition. These essential skills include instructing your dog to respond promptly to your call, walk calmly on a leash without tugging, and maintain unwavering focus on you instead of succumbing to distractions from other creatures or enticing aromas.
Along with training, it is crucial to ensure that your canine companion is in top physical shape for the upcoming hike. This entails gradually escalating the duration and level of difficulty of your walks in the weeks preceding the expedition to enhance their stamina. Moreover, ensuring that your dog's vaccinations and protection against fleas and ticks are up to date before embarking on the trails is equally important.
About Off Leash K9 Training in Upstate New York
Off Leash K9 Training employs highly experienced and certified trainers who have extensive knowledge and expertise in dog training. They have successfully trained thousands of dogs using their unique and effective training methods. The training programs offered by Off Leash K9 are tailored to meet the specific needs and behavior of each individual dog. Trainers work closely with dog owners to understand their goals and customize the training to achieve the desired results. One of the key benefits of Off Leash K9 Training is that it focuses on teaching dogs to listen and obey commands even when off-leash. This level of control provides owners with peace of mind and allows dogs to enjoy more freedom and independence. Off Leash K9 Training utilizes proven techniques and methods that produce fast and effective results. This means that you will see noticeable improvements in your dog's behavior in a relatively short period. Off Leash K9 Training offers a range of training programs to cater to different needs and goals. Whether you want basic obedience training, behavior modification, or advanced off-leash training, they have a program to suit your requirements. Off Leash K9 Training has a strong community of dog owners who have benefited from their training programs. They provide ongoing support and guidance, ensuring that dog owners feel confident and equipped to maintain their dog's training long-term. Overall, Off Leash K9 Training is a reputable and reliable training system that can provide you and your dog with the skills and tools needed for a well-behaved and obedient companion.