Protocols For Flying with Your Pet

The rules for traveling by air with your pet have evolved over the years. For instance, in 1990 I traveled from Los Angeles to Albany, N.Y. with my cat "Koko" when she was less than a year old. At that time, I was required to keep her in a very small carrier stowed under my seat. Every so often I would pull the carrier out from under the seat, rest it on my lap concealed by my coat and allow her to poke her head out. I had to pay a small fee for the privilege but because she was not occupying a seat of her own it was affordable.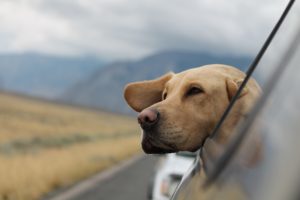 Another time I traveled from Portland, Oregon to Albany with my German Shepard "Holly" who I unwisely had stowed in the cargo hold in an airline-approved carrier. Because of her size, riding in the cabin was not an option. Throughout the flight I frequently heard her distinctive bark and realized the cargo hold was not the right place for my poor, frightened pup. I resolved never to do it again and have since made long-distance trips with her by car.

Service dogs are allowed to fly on board with their owners at no charge by a number of airlines. While non-service dogs are allowed to ride for a fee. 
Small dogs, cats, rabbits and other animals are allowed to ride in the cabin of some airlines for a fee but must be kept in an airline-approved carrier under the seat. 
The number of pets that are allowed per flight depends upon the space available. 
Larger pets will be relegated to the cargo hold, which should be climate controlled for their safety. Be sure to verify that fact with your airline.
There have been heartbreaking stories in the news about pets flying in the cargo hold that have been misplaced or that have broken out of their carriers and gotten lost. Sadly, in some cases, they were never to be seen again. For this reason it is imperative that you grill the airline you plan to use about their policy regarding the safety of pets who fly in the cargo hold.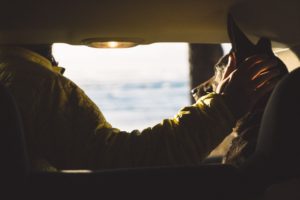 Also, be sure to have your pooch microchipped or otherwise properly identified in duplicate (engraved on the carrier, if possible) to eliminate the chance of misidentification when the time comes to reclaim your precious cargo!
Some of the newer aircraft designs include special accommodations for pets in the First Class section but carry a price-tag to match.

For more information be sure to contact your airline before booking your flight. Your pet's veterinarian will need to be notified before you travel because medical paperwork will be required by the airline stating that your pet is healthy and properly vaccinated.