Ways Coconut Oil Benefits Our Pets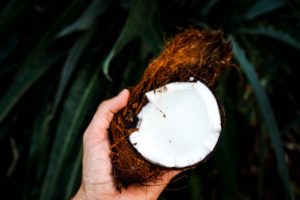 Coconut oil can be found in our cosmetics and its healing properties are claimed to include skin softener and protecter. But it's also known to increase our metabolism, fight infections, improve brain functions and as a dental decay preventative.
But what about as a health aid for our pooches?
Coconut oil can aid in a pooch's physical and mental wellbeing. Here are five ways how, according to the pet health experts at insidepetsworld.com.:
1. As a Minor Injury Treatment — Active pooches often get scrapes and boo boos, which coconut oil can soothe. Research has revealed that coconut oil contains anti-fungal, antibacterial and antiviral healing properties. It can likewise help rid our four-legged friends of such bad habits as excessive ear and paw biting, chewing and scratching.
2. As a Weight Loss Aid — Coconut oil s used by humans to burn belly fat, and it has similar benefits for pooches. Adding it to your dog's treats and meals can help assist them with healthy weight loss. It can balance thyroid function, which burns fat. For large breeds a single tablespoon is the correct dosage while a quarter of a teaspoon suffices for smaller breeds. Always consult with your pooch's veterinarian for proper dosing.
Coconut oil can ward off inflammations, digestive disorders, colitis and inflammatory bowel syndrome.
3. As a Dental Hygiene Aid — Brushing your dog's teeth with coconut oil rids their mouths of harmful bacteria and helps prevent them from developing plaque. You can apply the oil by dousing your finger with it or by applying it to your pup's toothbrush before brushing their teeth. The flavor is often something dogs like and may actually prefer over canine toothpaste.
4. As a Skin Protectant — Winter is the perfect time for dogs to develop dry, itchy skin or suffer from skin irritation, dandruff or flaking. Coconut oil will keep their skin moisturized. It's also an excellent flea and pest repellant. After massaging it onto their coat and into their skin they may lick some of it off, which is completely safe!
5. As a Medication Enticement — Dogs love the taste of coconut oil paste and it is easy to coat their medication with it so they'll take pills easier. The oil's slippery nature likewise makes pills easier to swallow.
Be sure to ask your pet's Clifton Park area veterinarian about the above-mentioned uses of coconut oil before trying them on your dog. Every pet has its own unique medical needs, which their vet can best assess.